Profile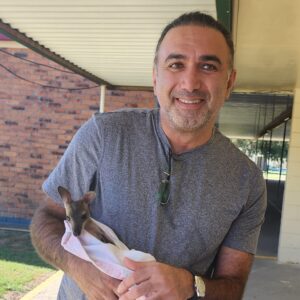 Heiman
Dianat
Associate Lecturer
Newcastle University
Dr. Heiman Dianat is an associate lecturer at the School of Architecture and Built Environment, Newcastle University NSW) with extensive research experience in the field of disaster resilience and construction.
Why Animals Matter in Emergency Management
The evacuation of animals during natural disasters is a critical issue that poses significant challenges in Australia. Existing animal safe facilities, such as livestock saleyards and showgrounds, may not always be accessible or efficiently be used by animal owners. This research project reviews the multifaceted challenges that arise during animal evacuation, including issues with integration, owner behavior, and facilities. The study also examines best practices in animal evacuation, such as inclusive planning and preparedness, animal identification and tracking, and effective communication strategies. The findings aim to provide recommendations for future research in the field of animal evacuation during disasters, with a focus on promoting the safety of animals, responders, animal owners, and the wider community. It also aims to enhance our understanding of the complexities associated with animal evacuation during disasters and proposes solutions to address the challenges. The evidence-based recommendations provided in this study seek to improve the preparedness and resilience of animal evacuation plans, promoting the safety and welfare of animals during disasters.