Profile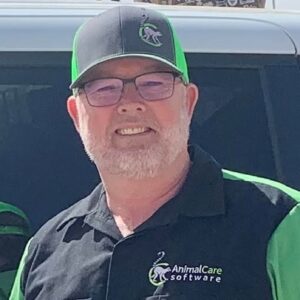 David
Kleven
President at AnimalCare Software
AnimalCare Software, United States
David Kleven Co-founded Animal Care Software, LLC, in 2015, a cloud-based animal record keeping solution for tracking animal inventory, medical records, daily husbandry, and welfare management. Recognized as meeting federal standards for licensing by United States Department of Agriculture (USDA) Animal Welfare Act (AWA) standards and record keeping requirements for accreditation by both Aquarium & Zoo Association (AZA)and Zoological Association of America (ZAA).
As President of ACS, he is responsible for subject matter expertise, sales, marketing, development plan, user support and training. Leading the development of ACS to benefit animals in both managed care and the natural world is ACS's mission.
Co-founded and Co-owned Animal Edutainment, Inc. a not-for-profit wildlife, education, outreach organization, developed and presented live Animal Ambassador programs and education materials. Presented over 15,000 wildlife education outreach programs from 1990 to 2021. He served as the education committee chair for the Zoological Association of America until March, 2022.
Cloud Based Resource Inventory Tracking and Deployment for Exotic Disaster Response, Rescue, and Recovery
In 2017 the Texas coast was hit by Hurricane Harvey, a Category 4 Hurricane that dropped up to 1.5 meters of rainfall over 4 days. Some facilities lacked the ability to respond on their own ,and needed outside support and resources. A small group of zoological facilities responded, but with little to no coordination. Many lessons were learned, including the need for coordinated communications and resource management. In 2020 and 2021 ZDR3 and AnimalCare Software received grants from Zoo and Aquarium All Hazards Preparedness (ZAHP) to develop a platform for a Communication and Resource Management information sharing system for Zoological Emergency Response Groups. We will discuss the outcome of those lessons learned, and how they applied to the development of a solution