Profile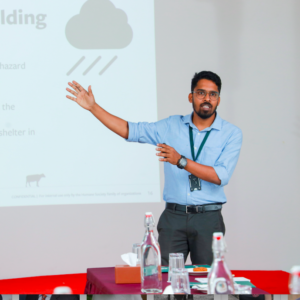 Praveen
Suresh
Manager of the Disaster Preparedness, Response and Relief Department
Humane Society International (HSI)
Praveen is the Manager of the Disaster Preparedness, Response and Relief Department at Humane Society International/India. With half a decade of experience in the field, Praveen has worked with both governmental and non-governmental bodies for the development of disaster management plans, on-ground interventions, risk assessment studies, emergency responses, capacity building etc.
Why India's Disaster Management System Needs to Be More Inclusive of Animals?
In the year 2022, Humane Society International (HSI)/India in collaboration with the district administration, Jilla Panchayat, local self-governance departments, animal husbandry department, and Kudumbashree mission of Wayanad, initiated a Monsoon Preparedness Program for livestock and companion animals in Wayanad district, Kerala. The program focused on safeguarding animals against natural calamities in the highly vulnerable regions of the district. Four vulnerable panchayats were selected for training programs, including General Preparedness Measures for animals and Animal First Aid for farmers, Self Help Groups, ward members, and local rescue teams. The program helped the community develop an understanding of disaster risks their animals face and possible remedial measures they can take to build resilience. A total of 349 individuals who take care of over 1000 animals participated in the training programs. As climate change, population growth, and disasters become more frequent, the need for inclusive disaster risk reduction for a sustainable and resilient future is paramount. Yet, a wider definition of "inclusivity" is necessary in this situation.