Profile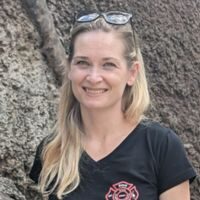 Julia
Wagner
Executive Director
Zoological Disaster Response, Rescue, and Recovery (ZDR3)
Julia Wagner is the Executive Director of Zoological Disaster Response, Rescue, and Recovery (ZDR3), the largest zoological disaster response organization in the U.S.
Julia has served in a variety of roles in the zoological industry for more than 15 years, with a focus on risk mitigation, preparedness, response, and recovery work at exotic animal facilities. After spending 5 years working for the Zoo and Aquarium All Hazards Partnership, Julia co-founded ZDR3 in 2019.
In her role as Executive Director of ZDR3, Julia Wagner is responsible both for overseeing the organization's daily operations, as well as deploying with response teams to provide needs assessments and on-the-ground logistical support when needed. Since 2020, Julia has responded to 8 facilities in 3 states that have endured hurricane damage, tornadic activity, and flooding.
Julia holds a Master's degree in Criminal Justice, is co-chair of the Zoological Association of America (ZAA) Safety and Security Committee, and regularly consults with government agencies and other entities about zoological industry considerations related to disaster response and security. In addition to her focus on disaster response, Wagner also has a background in zoological industry government affairs, including state and federal legislative and regulatory considerations, and maintains extensive data about adverse incidents at zoological facilities.
ZDR3: Specialized Disaster Response for Organizations Housing Exotic Animals with a Focus on Human Safety and Animal Welfare
Zoological Disaster Response, Rescue, and Recovery (ZDR3) is the largest zoological disaster response organization in the United States. Spanning 30 states, ZDR3 is a growing mutual aid network consisting of 130 zoos, aquariums, and other businesses specializing in exotic animals/ ZDR3 was founded in 2019, and has coordinated multiple response efforts by professional zoological personnel to support their colleagues in the wake of hurricanes, ice storms, flooding, and other adverse events. Response teams perform a myriad of tasks at impacted institutions, including animal evacuation, tree removal, electrical restoration, habitat repairs, and psychological first aid for impacted personnel. ZDR3 works in coordination with government agencies, industry associations, corporate sponsors, and other partners, and all response efforts are at the specific request of the impacted institution. The concept of peer-to-peer support in the zoological community is not new, and neighboring institutions can form their own regionalized efforts to enhance preparedness, response, and recovery efforts amongst zoos, aquariums, and other biological entities. While ZDR3 does not conduct international operations, lessons learned in developing the network and responding to institutions in crisis are applicable to many other regions.