Profile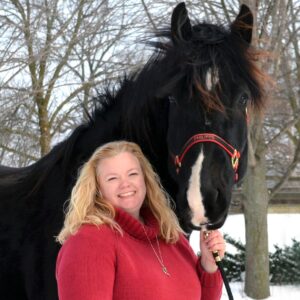 Jenne
Rosegay
Board of Directors
Horsemen's Council of Illinois and the McHenry County Horse Club
Jenne Rosegay (Illinois, United States) was introduced to technical large animal emergency rescue after a tragic trailer accident involving horses belonging to friends. She is the Midwest Liaison for Technical Large Animal Emergency Rescue (TLAER), and proudly raises awareness that her home state of Illinois is the first in the US to offer large animal rescue awareness and operations as part of the basic firefighter curriculum through the University of Illinois Fire Service Institute.
Jenne provides travel and logistical support, as well as social media and public relations coordination and communications, for national disaster response organizations' animal search and rescue teams in the aftermath of disasters such as Hurricanes Harvey, Irma, and Florence; flooding in Oklahoma City, OK; and wildfires in Butte County, CA.
Jenne is on the board of directors of the Horsemen's Council of Illinois and the McHenry County Horse Club. She is also a member of the National Alliance of State Animal and Agricultural Emergency Programs (NASAAEP). She coordinates multiple virtual and in-person educational webinars and speaker series on equines that have been viewed around the globe. She is an approved equine humane investigator under the Illinois Department of Agriculture, and has deployed with the ASPCA National Field Response Team to care for more than 60 equines seized in a cruelty case.